Taking the next step and replacing your essential products with Biode®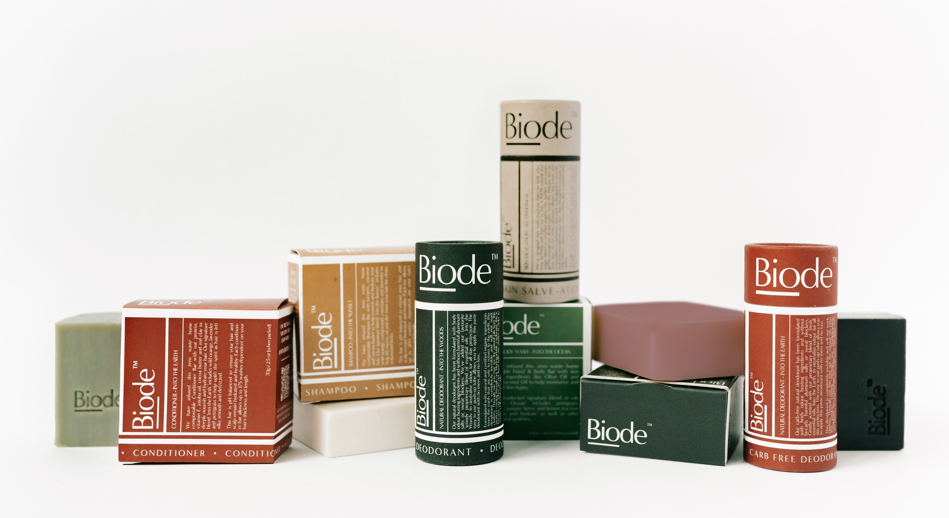 Biode® was created when our founders realised the huge impact the beauty and skincare industry was having on our planet and saw the need for a sustainable solution. The beauty industry creates 120 billion units of packaging every year and packaging is the number one contributor to plastic production in the world and offender for plastic waste pollution.

Our everyday essentials are most definitely harder to replace when waging the war plastics. We know it's hard to let go of your favourite products, you don't want to compromise on quality and results. Biode® was created with this in mind. The high quality body care basics have been thoughtfully designed to suit your everyday needs. Once the entirety of the product has been used it is ready to be returned to the earth leaving as little or no impact on our planet as possible.

You will be doing not only the environment a favour by making a switch, but your body as well with the award winning formulations made from 100% natural and organic ingredients.

To expand on our Clean Switch guide here are some easy essential swaps for you.
If you use shampoo and conditioner in plastic bottles:
Try Biode's shampoo and conditioner bars. When you make the swap you will be saving up to 3-5 bottles of plastic and depending on your hair length and texture, the bars allow for up to 200 washes. Filled with incredible natural ingredients that nourish and hydrate your hair, these bars are a perfect alternative to synthetic hair care products. 
Don't want to switch to bars because you hate how soggy they become? Biode has created an Air Drying Soap Holder made from bamboo, which is highly resistant to mould and mildew. We have also designed this holder to be minimal and sleek, and look great in your bathroom. Another great staple for reducing your plastics in the bathroom.  The holder has the added benefit of creating maximum life for your bars.
If you use shower gels in plastic tubes: 
Try Biode's Hand and Body bars. Each bar is the equivalent of approximately five bottles of liquid soap. This zero waste home compostable Hand & Body Bar is infused with skin hydrating ingredients like Olive Oil and creamy Coconut Oil to help moisturise and cleanse all skin types.
If you want a little extra exfoliation, our exfoliating bars do the trick. They are infused with purifying charcoal and native wattleseed and walnut shell to gently polish the skin and buff away dead skin cells.
If you use deodorants in plastic packaging or aerosol cans: 
Try Biode's 100% natural deodorant. When you make the swap you will be saving up to two roll on deodorants or up to three aerosol spray cans. Our natural deodorant has been formulated with body odour busting ingredients and without harmful aluminium salts or sweat blockers so it's good for you and the environment. 
If you use lip balms in plastic tubes: 
Try Biode's tinted lip balms. Like all our packaging, our lip balms come in 100% home compostable packaging ensuring nothing harms our earth. These lip balms also double as cheek and eye tints so you can say goodbye to your plastic blushes and eyeshadows too. All ingredients used are natural, ensuring your beauty looks are safe for the environment and for you. 
BONUS replacement: 
Another saviour is our Skin Salve-ation which is full of multi purpose use. A 100% natural and vegan blend of certified organic oils, butters and waxes gentle enough for all skin types. From the delicate skin on your face, to the most calloused elbows and knees and everywhere in between, this salve is designed to nourish, heal and strengthen your skin. Also the perfect remedy to help relieve: nappy rash, insect bites, skin irritations and rashes. You can replace so many of your everyday skincare or beauty products that come in plastics with this balm alone. 
We have created clean beauty that performs well. We believe that the products you use on your body every day should make a true difference in your wellbeing and the wellbeing of our planet. Remember, every little bit counts and we need to take the next step and be autonomously responsible for our individual impact on this earth. 
Disclaimer: replacement of commercial products in plastic are estimates and based upon volume of use, storage of bars, and have been based on the experience of Team Biode and surveys undertaken with our community.  Your own individual experience may vary.