The benefits of multi-purpose products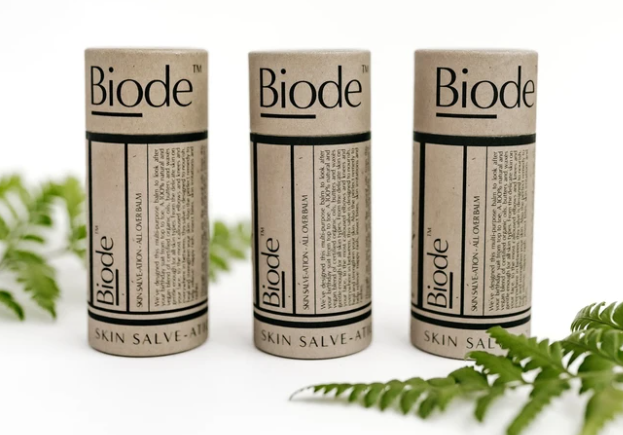 When it comes to beauty and skincare routines, less is definitely more when it comes to eco-friendly and sustainable products.
As previously mentioned in our blog posts on single-use plastics, the beauty industry produces significant amount waste and many products are unable to be recycled. 
At Biode® we designed our products to be great for the planet and great for you. We've made many of our products multi-purpose, meaning you need to buy less products, better for your skin, your wallet and the environment too.
We want to push the conversation about clean beauty and skincare to the world - we want consumers to know they don't have to choose between efficacy and the environment. 
Here's some of our amazing multi-purpose wonders:
Skin Salve-ation:
Our award winning skin salve-ation can be used from head to toe. Made with a 100% natural and vegan blend of certified organic oils, butters and waxes it is perfect for all skin types, even babies.  It is a booster to nourish and strengthen your skin, it can also be applied to your eyebrows to keep them looking sleek and neat. It is an effective remedy for nappy rash (apply to your fingers first), skin irritations, rashes and callouses.
If your lips need some loving in this cold and dry winter, our mini Skin Salve-ation is purse-sized and perfect to hydrate your pout.  
Tinted Lip Balms:
You may have seen our tinted balms on the runway at Australian Fashion Week or in beauty editorials, and that's because our tinted lip balms are a real beauty game changer. Mica free and entirely natural, they are available in three gorgeous shades. Each balm is enriched with a hint of essential oils and shea butters plus other organic ingredients to give that 'your lips but better' effect. 
What are MICA powders and why are they bad for you? 
Mica is a silicate mineral found in granite, crystals, and other rocks. The composition of Mica allows it to be ground down into a fine powder-like dust. This powder is used for many things such as extending and brightening pigmentation of car paint and adding a shimmery effect to beauty products. 
When using a natural mineral like Mica, one big concern is the presence of other minerals like lead, arsenic & mercury. As Mica is ground into a nanoparticle it can penetrate through layers of skin and even seep into the lungs.
Our Tinted Lip Balms are three-in-one as they can be used on cheeks and eyes as well as lips, and we saw this on the Aje. Runway Resort 2022 show back in May.  Makeup Director Isabella Schimid used only Waratah or Copper Daisy on each of the models to enhance their raw beauty, with Skin-Salveation used as a highlighter on the cheeks.
Haircare Bars:
Not only are our haircare bars excellent as they nourish and protect your hair with pure essential oils and are formulated to suit all hair types. They are also pH balanced to ensure your hair and scalp are super hydrated. 
Our shampoo bar can also double as a body bar, while our conditioner bars are perfect for shaving making your shower time so much more efficient! 
There you have it. Multi-purpose products working for you, your wallet, and the environment.  Hurrah!